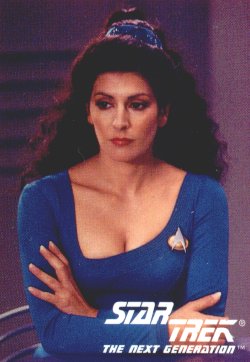 Believe it or not, I like
ST:VOY
,
ST:ENT
, and
ST:TOS
, but I was never into
ST:TNG
. Maybe it was because the bridge looked like a giant '89 Mercury Sable? Maybe I was not into sci-fi at the time? Who knows? Well, I appreciate
The Next Generation
a bit more these days, and it is in no small part to
Marina Sirtis
, aka Counselor Deanna Troi.
I have a weird history with Counselor Troi. I never found her to be that sexy, but that might have been my distaste for TNG. Now, I find her sexy, but notice how weird her outfits could be. She was the start of the "non-standard issue" uniform that would be taken up by Seven of Nine and Commander T'Pol, but they did not have their crotch technology down-pat apparently. Sometimes the crotch of her outfit was a good four inches lower than I imagine was necessary. Possibly they were trying hard to avoid camel-toe?
Anyway, Ms Sirtis has held up pretty darn well, and is an animal lover, so "three cheers for Counselor Troi! Make it so!"